Electrolyzer
Ion-Exchange Membrane Sodium Chloride Electrolytic Cell
This device electrolyzes sodium chloride solution and extracts mainly chlorine gas and caustic soda. It is used extensively in the production of materials that form the foundation of chemical industries.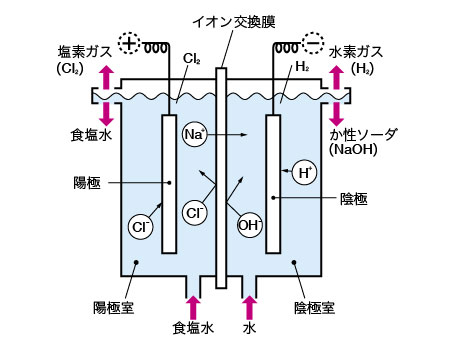 Our company has manufactured electrolytic cells for over 40 years, alongside changes in manufacturing method from:
 1) Mercury electrodes (Showa 43 <1968>)
 2) Diaphragm electrolytic cells
 3) IM unipolar electrolytic cells
 4) IM multipolar electrolytic cells

This device satisfies the following requirements:
 1) Corrosion resistance: In response to the need for corrosion resistance, the device is made of titanium and nickel materials that are welded and assembled.
 2) Cost reduction: Due to the relatively larger quantities required for use in industrial products, this device answers the need for cost reduction.
 3) Weight reduction and strictness in production precision: These requirements are necessary in order to reduce material and electricity costs for electrolysis. The device also satisfies the requirement to develop methods for jig setup and quality control.
To this day, our company continues to manufacture products in response to all the above needs.